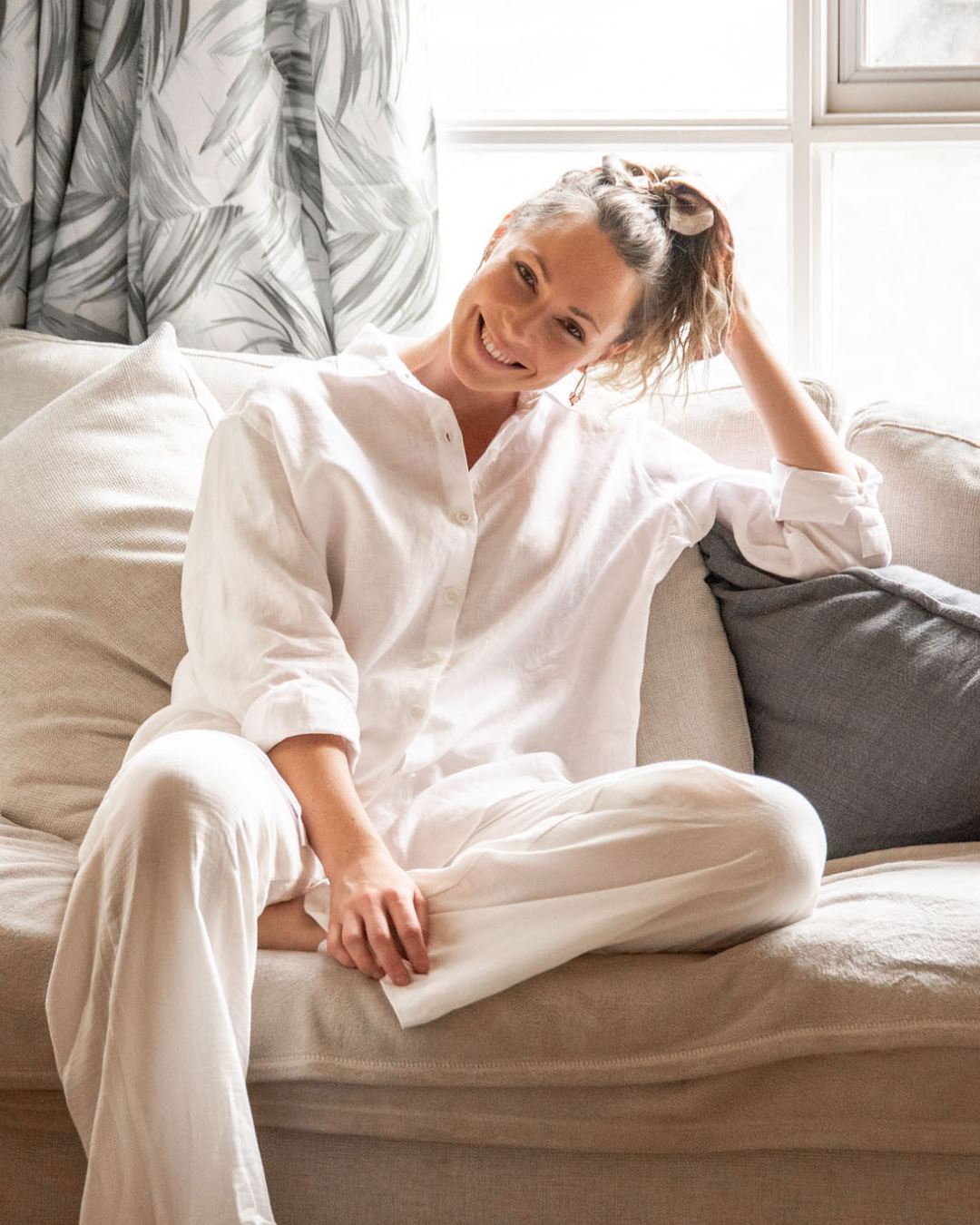 The boring bits.
TERMS AND CONDITIONS.
PRIVACY AND SECURITY.
GROWTH GUARANTEE
The Fashion Advocate's online masterclass courses are covered by our 'Growth Guarantee' because we believe in the efficacy of our programs. If you purchase a course, complete the outlined work, and do not see a change to your traffic, conversions, or sales after 90 days, you may be eligible for a refund with the additional terms. To be eligible for a full refund, you must:
Be an ethical, sustainable, circular or slow fashion brand, business or label.
Show 90 days of workings to prove that you have completed the outlined work as recommended in the course.
Have a functioning website that is user friendly and professional with high quality imagery, quality product descriptions and working checkout facilities.
Sell a quality, legal, reasonably priced product or service that meets market demand.
Engage in our Facebook community to seek peer advice throughout the 90 days to attain peer ideas and resolutions to your lack of results.
PURCHASE POLICY

All digital purchases and mentoring session purchases are final. Due to the nature of our digital and in-person products, we do not offer refunds for those who do not do their due diligence to ensure the course or purchased session is the right fit for them.
It is your responsibility to review our sales page and terms and conditions carefully prior to purchase.
It is clearly communicated in our marketing, webinars, newsletters, social media, website/s, and sales pages that the target audience for our courses, mentoring and programs are ethical and sustainable fashion businesses.
We do not offer refunds for change of mind and our exclusive bonuses and course extensions are non-refundable under any circumstances.
Unless otherwise stated, all digital course prices and downloadable content purchases are in Australian Dollars and where applicable, inclusive of goods and services tax (GST).
The Fashion Advocate reserves the right to change or alter the price of goods on the website without notice. If you have already submitted an order at a particular price, there will be no change or alteration to that price, provided your order is not affected by a pricing error, in which case an alternate procedure will apply.
You can pay for your goods by any of the methods specified on the order form, including credit card, Pay Pal, Klarna or debit card. When paying by credit card, you authorise The Fashion Advocate to charge the value of your order to your card.
Any payment for an order must be cleared by The Fashion Advocate before goods are digitally delivered. In paying or attempting to pay for goods, you agree that you have not engaged in any fraudulent conduct or contravened any Law.
By visiting www.thefashionadvocate.com, placing an order with The Fashion Advocate or by engaging in contact with The Fashion Advocate, you are agreeing to accept the terms and conditions set out on our website. These terms and conditions shall be governed by the laws of Australia and you submit to the exclusive jurisdiction of the courts this country, regardless of the location of your use or point of contact.
In purchasing a product from The Fashion Advocate, you agree to these terms of use, which constitute a legally binding agreement made between you, whether personally or on behalf of an entity of you, and The Fashion Advocate, concerning your access to and use of the website as well as any other media form, media channel, mobile website or mobile application related, linked or otherwise connected thereto. The Fashion Advocate provides online programs for the provision of support for the purpose of building and growing a business as well as programs which consists of masterclasses, personal coaching calls, pitching sessions, the provision of online resources, a private Facebook community, and potential other future offerings, all of which are subject to modification or change at our sole discretion.
To help make our website a secure environment for the purchase and sale of the products, all users are required to accept and comply with these Terms of Use. You agree that by accessing our site and/or our products, you have read, understood and agree to be bound by all of these Terms of Use. If you do not agree with all of these terms of Use, then you are expressly prohibited from using the site and/or the products and you must discontinue immediately.
Supplemental terms and conditions or documents that may be posted on the Site from time to time are hereby expressly incorporated herein by reference. We reserve the right, at our sole discretion, to make changes or modifications to these Terms of Use at any time and for any reason without notice.
The information provided is not intended for distribution or use by any person or entity in any jurisdiction or country where such distribution or use would be contrary to law or regulation or which would subject us to any registration requirement within such jurisdiction or country. Accordingly, those persons who choose to access the Site from other locations do so on their own initiative and are solely responsible for their compliance with local laws, if and to the extent local laws are applicable.
INTELLECTUAL PROPERTY RIGHTS
Unless otherwise indicated, our site and products are our proprietary property and all source code, databases, functionality, software, website designs, audio, video, text, photographic and graphics on the site (collectively, the 'Content') and the trademarks, service marks, and logos contained therein (the 'Marks') are owned or controlled by us or licensed to us, and are protected by copyright and trademark laws and various other intellectual property rights and unfair competition laws, international copyright laws, and international conventions. The Content and the Marks are provided on the site for your information and personal use only. Except as expressly provided in these Terms of Use, no part of the Site or the Products and no Content or Marks may be copied, reproduced, aggregated, republished, uploaded, posted, publicly displayed, encoded, translated, transmitted, distributed, sold, licensed or otherwise exploited for any commercial purpose whatsoever, without our express prior permission.
Provided that you are eligible to use the Site and the Products, you are granted a limited license to access and use the Site and the Products and to download or print a copy of any portion of the Content to which you have properly gained access solely for your personal, non-commercial use. We reserve all rights not expressly granted to you in and to the Site, the Products, the Content and the Marks.
You may not use the Site or the Products for any illegal or unauthorised purpose nor may you, in the use of the Products, violate any laws.
PAYMENTS AND FEES
When you submit your online application for our online offers, you are making an offer to join the Site and access the Site, Program and the Products, which, if accepted by Us, will result in a legally binding contract.
You will be required to purchase or pay a fee to access some of our services. You agree to provide current, complete, and accurate purchase and account information for all purchases made.
PROHIBITED ACTIVITIES
You may not access or use the Site or Products for any purpose other than that for which we make them available. As a user of the Site and Products, you agree not to:
1. Systematically retrieve data or other content or create or compile, directly or indirectly, a collection, compilation, database, or directory without written permission from us.
2. Make any unauthorised use of the Site or Products, including collecting usernames and/or email addresses of users by electronic or other means for the purpose of sending unsolicited email, or creating user accounts by automated means or under false pretences.
3. Circumvent, disable, or otherwise interfere with security-related features of the Site or Products, including features that prevent or restrict the use or copying of any Content or enforce limitations on their use and/or the Content contained therein.
4. Trick, defraud, or mislead us and other users.
5. Make improper use of our support services or submit false reports of abuse or misconduct.
6. Engage in any automated use of the system, such as using scripts to send comments or messages, or using any data mining, robots, or similar data gathering and extraction tools.
7. Interfere with, disrupt, or create an undue burden on the Site or Products or the networks or services connected to the Site.
8. Attempt to impersonate another user or person or use the username of another user.
9. Sell or otherwise transfer your profile.
10. Use any information obtained from the Site or Products in order to harass, abuse, or harm another person.
11. Use the Site as part of any effort to compete with us or otherwise use the Site and/or the Content for any revenue-generating endeavour or commercial enterprise.
12. Decipher, decompile, disassemble, or reverse engineer any of the software comprising or in any way making up a part of the Site or Products.
13. Attempt to bypass any measures of the Site designed to prevent or restrict access to the Site, or any portion of the Site.
14. Harass, annoy, intimidate, or threaten any of our employees or agents engaged in providing any portion of the Site to you.
15. Delete the copyright or other proprietary rights notice from any Content.
16. Copy or adapt the Site's software, including but not limited to Flash, PHP, HTML, JavaScript, or other code.
17. Upload or transmit (or attempt to upload or to transmit) viruses, Trojan horses, or other material, including excessive use of capital letters and spamming (continuous posting of repetitive text), that interferes with any party's uninterrupted use and enjoyment of the Site or modifies, impairs, disrupts, alters, or interferes with the use, features, functions, operation, or maintenance of the Site.
18. Upload or transmit (or attempt to upload or to transmit) any material that acts as a passive or active information collection or transmission mechanism.
19. Use, launch, develop, or distribute any automated system, including without limitation, any spider, robot, cheat utility, scraper, or offline reader that accesses the Site, or using or launching any unauthorised script or other software.
20. Disparage, tarnish, or otherwise harm, in our opinion, us and/or the Site.
21. Use the Site in a manner inconsistent with any applicable laws or regulations.
INDEMNIFICATION
You agree to defend, indemnify, and hold us harmless, from and against any loss, damage, liability, claim, or demand, including reasonable legal fees and expenses, made by any third party due to or arising out of:
1. Your Contributions;
2. Use of the Site and the Products;
3. Breach of these Terms of Use.
4. Any breach of your representations and warranties set forth in these Terms of Use.
5. Your violation of the rights of a third party, including but not limited to intellectual property rights; or
6. Any overt harmful act toward any other user of the Site with whom you connected via the Site. Notwithstanding the foregoing, we reserve the right, at your expense, to
assume the exclusive defence and control of any matter for which you are required to indemnify us, and you agree to cooperate, at your expense, with our defence of such claims. We will use reasonable efforts to notify you of any such claim, action, or proceeding which is subject to this indemnification upon becoming aware of it.
PRIVACY
The Fashion Advocate is committed to protecting your personal information in accordance with the Australian Privacy Principles in the Privacy Act.
The personal information we collect depends on the dealings you have with us. Personal information includes information about an individual who is reasonably identifiable. For example, if you:
Provide details to join special mailing lists or databases if you'd like to receive information about certain products or offers, we may collect your name, contact details, date of birth and preferences.
Make a purchase online or when you otherwise set up an online account, we will collect your name, contact details, order details, credit card details and delivery address.
Provide information via social media pages, such as providing your name or contact details via our Facebook pages, our Twitter or Instagram accounts or other social media sites.
Attend one of our functions or events, we will collect your name, contact details and any dietary or accessibility requirements.
Enter a competition or complete a survey, in online or printed format, we may collect your name and contact details along with your merchandise or services preferences and feedback.
Send us an enquiry or provide us with feedback through our online form or via email, we will collect your name, contact details, details of your enquiry or feedback and information about our response.
Submit a sponsorship or partnership application, we will collect the information you include in your proposal.
Apply for employment with us, we will collect the information you include in your job application, including your and your referee's contact details.
You can transact with us and make general enquiries or provide certain feedback anonymously, however in some cases if you don't identify yourself, we may not be able to respond to you or provide you with the product or service you are seeking. You must identify yourself to purchase products online, in order for products to be delivered to you.
We only collect sensitive information where it is reasonably necessary for our functions or activities and either you have consented, or we are required or authorised by law to do so.
Information is automatically collected through your use of our websites through the use of cookies. We may collect this information both anonymously and in relation to user accounts.
Cookies are used to track your visit to our website, and we may use cookies to record information including your server address, the date and time of your visit, the pages you viewed, any documents you downloaded and the type of browser and operating system you used. The information is used and disclosed by us for purposes including statistical analysis and to assist us to improve the functionality and usability of the website and any apps.
By providing your address, email address and telephone numbers to us, you consent to us contacting you for the purposes set out above. We may send information in a variety of ways, including by mail, email, social media, SMS, MMS or telephone. You can opt out of being contacted by:
Emailing us at editor@thefashionadvocate.com.
Using the unsubscribe facility that we include in our electronic messages.
If you provide us with an email address or phone number, you consent to electronic communication such as notices or reminders being sent to you via that address or number. You may prefer to provide to us with your personal email address or phone number rather than, for example, an email address accessible by your work colleagues.
We only share your personal information with third parties where appropriate for the purposes set out above, including:
Financial institutions for payment processing.
Referees whose details are provided to us by job applicants.
Our contracted service providers or partners, including delivery and shipping providers, our electronic mail house, manufacturers and suppliers.
Regulatory, investigative or government bodies to comply with laws.
We do not give your personal information to third parties to contact you directly for any purpose.
We only use your name, address, email and contact phone number for the purpose of communicating directly with you, digitally delivering your order, or having you attend one of our physical events.
SECURITY
The steps we take to secure personal information include website protection measures, security restrictions on access to our computer systems, controlled access to our corporate premises, policies on document storage and security, personnel security and training and workplace policies. While we endeavour to protect the personal information of users of our website, we cannot guarantee the security of information you disclose online: you disclose that information at your own risk. If you are concerned about sending your information over the internet, you can contact us. You can also help protect your personal information by keeping your account details confidential. If you become aware of any security breach, please let us know as soon as possible.
Links to third party sites that are not operated or controlled by us are provided for your convenience. We are not responsible for the privacy or security practices of those sites, which are not covered by this Privacy Policy. Third party websites should have their own privacy and security policies, which we encourage you to read before supplying any personal information to them.
Please contact us at editor@thefashionadvocate.com if you would like to access or correct the personal information that we hold about you. We may ask you to verify your identity before processing any access or correction requests, to make sure that the personal information we hold is properly protected.
COMPLAINTS OR QUESTIONS
If you would like further information about how we manage your personal information, or if you have any queries relating to our Privacy Policy, or wish to lodge a complaint in relation to an alleged breach of the Privacy Act, please contact us at editor@thefashionadvocate.com.
All complaints received by us will be dealt with fairly and in a timely manner considering all the circumstances. In most cases, we expect that complaints will be investigated, and a response provided within 30 days of receipt of the complaint. If the matter is more complex and our investigation may take longer, we will contact you and tell you when we expect to provide our response.
OUR BUSINESS DETAILS
Australian Company Number 630 545 658.
ACCESS AND USAGE
Some of our courses and content can be accessed perpetually and some of our courses and content can only be accessed within a limited timeframe. We clearly outline the access window and timeframe on each course. Please check if this suits you prior to purchase as we cannot refund your purchase if you fail to complete your course within the designated timeframe.